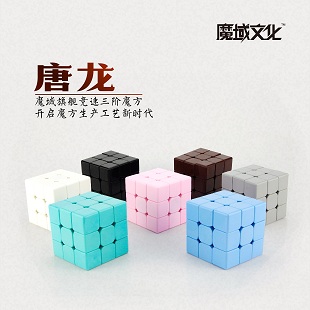 Tanglong is a new cube with three new patents

1.Unified friction surface
Most of the 3x3 cubes have edges and corners combined with 2 and 3 same parts,but the new patent "Unified friction surface" is first used on Tanglong,making the edges and corners to be perfectly assembled and have smoother turning feeling.The patent makes no seam on the friction surface of edges and corners and from the outside,which also makes the cube more sophisticated.

2.The cambered surface of the foot of Corner block with Fold Arc Design
This design helps avoding lock-ups while turning the cube with high speed and enlarges the degrees of corner cutting,as well as reduce the noice.

3.Linear Inverted Corner
Almost all the 3x3 cubes have unnecessary oblique surfaces on the foot of corners caused by some problems of mould making,causing lock-ups while turning the cube with high speed.

Also this cube perfectly absorbs 6 technologies of Moyu

1.Circle pillar below the center cap surface
Usually a center cap has a square-like pillar below the cap surface,which enlarges the outer size of the whole center and causes lock-ups and bumpy feeling while turning the cube with high-speed.This design avoids lock-ups caused by the bumping between the centers and edges or corners while the cap can still be combined perfectly with the center.

2.Maximized holes among corners and edges
This degisn is also for avoiding lock-ups caused by the bumping between corners and edges ,we maximize the size of the holes among corners and edges to make the best turning feeling with less lock-ups.

3.Seamless appearance
Each edge and corner is combined by an unified surface outer part and an inner part which makes the cube sophisticated and seamless looking from the outside

4.Combinable pillars inside corners and eedges
Every single part of an edge or an corner has combinable pillars that helps combining them tight and perfectly as well as having an more beautiful appearance.

5.The highest accuracy of mould making technology

6.The new technology of mould making that allows making an unified inner part of edge or corner out of the mould

Special editions:cyan,blue,grey,brown,pink and primary color etc.
For more:http://moyucube.com/en/Product4_e.asp?option=view&ProductId=4071